"I have too much skin creating jowls and hanging down under the chin."
This is one of the most common concerns we hear from patients in our Annapolis plastic surgery center. The aging process can make a significant impact on the lower face and neck. It is distressing to lose the contour of the jaw line and neckline, especially at an early age.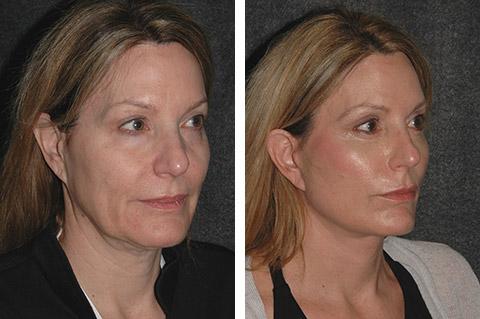 Over the past 10 to 15 years, there has been a dramatic increase in the number of options we have for treating this problem. These include laser skin tightening, liposuction and lower face and neck lift.
Laser Skin Tightening
Younger patients who have early signs of skin laxity and loss of tightness may be good candidates for laser skin tightening. One of the most powerful lasers for this treatment is the CO2 laser.
At the Sandel Center, we use the most state-of-the-art CO2 laser systems available. The Lumenis Ultrapulse® Encore CO2 laser system allows Dr. Sandel to tailor his treatments to specific areas. This will limit downtime and help you achieve the most effective results possible.
The CO2 laser is a wonderful tool to make your skin look healthier. It is effective at removing fine lines, wrinkles, discoloration and sun spots, as well as improving skin tone and loss of elasticity.
It it is a one-time treatment that can be used alone or in combination with other therapies. Learn more about laser skin rejuvenation.
If you have more advanced signs of aging, you may be a candidate for a face or neck lift. Although laser resurfacing is wonderful at renewing skin, it does not substitute for lifting jowls or removing or lifting redundant skin of the neck. It also works well for fine lines and skin tightening around the eyes, but eyelid surgery is still the best option for removing puffy and redundant skin.
Facelift Surgery
Over the past few decades, facelift surgery has evolved greatly. No longer is it required that full facelifts be performed on most patients. Dr. Sandel can address each part of your face separately, with procedures designed to give the most natural, and longest lasting results possible.
The most common "facelift" performed today is really a lower face and neck lift. This outpatient procedure will lift the jowls and excess skin hanging from the neck; create a more youthful jaw line and defined neckline. The procedure requires 7-10 days of recovery and results last for many, many years.
Facelift Before & After Photos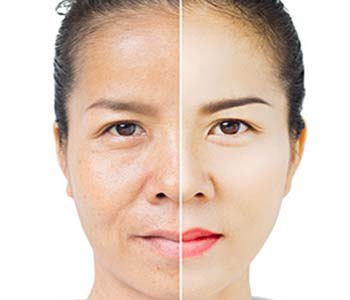 See more facelift before and after photos
How is the facelift procedure performed?
The lower face and neck lift procedure is usually performed under mild, general anesthesia. Several incisions are placed in the natural contour of the ear, near the temple and hairline to behind the ear. Once the skin is raised, a small incision is made in the SMAS layer, a thin muscle layer just under the skin. This muscle layer is then lifted, elevating the jowls and reshaping the neckline.
Using this layer to support the lift, dramatic but natural effects can be obtained without pulling on the mouth or creating a "windswept" appearance.
The skin is the closed with very fine sutures that will be removed 7 days after your procedure. After the sutures are removed and with a little makeup to cover any bruising, most patients are able to return to work 10 days after surgery.
Schedule an Appointment
If you have loose skin on the chin and neck, contact our office for a consultation with Dr. Sandel. Call 410.630.4489 or request an appointment online.