The Sandel Center for Facial Plastic Surgery is one of the most comprehensive cosmetic facilities in Annapolis, Maryland. In addition to facial plastic surgery, Dr. Henry Sandel is experienced in laser skin care aesthetics including CO2 laser skin rejuvenation, laser hair removal and laser vein treatments.
Best in Annapolis
Dr. Henry Sandel and the staff at the Sandel Center were named "Best Laser Skin Rejuvenation in Annapolis" in What's Up Magazine Best of Beauty & Fitness.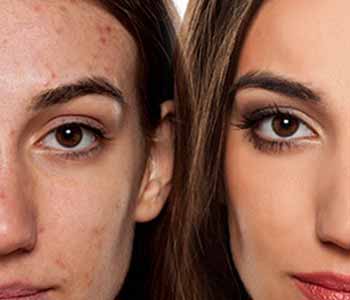 Lasers Can Dramatically Improve Your Surgical Result
Surgical Procedures Alone Can Give Great Results… Lasers Can Help Make It Exceptional!
If you are planning a procedure to improve your appearance, consider adding a laser treatment to obtain exceptional results. Many procedures such as facelifts and blepharoplasty (eyelid surgery) can provide an excellent result in removing redundant, droopy skin, however these procedures alone do not address the fine lines, skin texture, pigmentation (dark spots) and loss of elasticity caused by sun damage. Laser skin rejuvenation will treat these problems and make your result that much better!
Our Laser Skin Care Services
Laser Skin Rejuvenation
Laser Hair Removal
Laser Vein Treatments
Traditional Laser Skin Treatments
Lasers have been used for rejuvenating the skin for many years. Traditional treatments have included chemical peels and carbon dioxide lasers (CO2). These treatments are excellent in providing dramatic results with one treatment session. Patients who are selected appropriately with regard to their skin types can benefit from the marked reduction of fine lines, wrinkles, sun spots, discolorations, uneven skin texture, and scarring. Although technology has come a long way, nothing has matched the efficacy of these traditional modalities.
However, the CO2 laser and chemical peels have several risks associated with them that make them difficult to use in untrained hands. Some of these include pigmentation changes, lines of demarcation, redness, long recovery periods and, in rare cases, scar formation. It is important to select a surgeon who is highly experienced with these techniques to avoid or minimize these complications.
New Laser Skin Treatments
As laser technology has continued to evolve, exciting treatment modalities have been made available. It is becoming easier to treat brown spots (lentigines), fine lines and wrinkles, redness, vascular areas (telangiectasias), and texture with less risk and minimal downtime. Although not quite as effective as the traditional CO2 laser or chemical peels, these new lasers offer results over several treatment sessions, each with little to no downtime. Even the more aggressive treatment will heal almost completely in less than 4-7 days. These treatments can also be performed in the office without requiring an anesthesiologist. Topical numbing cream is usually sufficient.
There are many different companies marketing different types of lasers and technology. It is very difficult to discern what works and what doesn't. Some laser platforms are more useful in the medical spa or salon setting. These treatments are generally very superficial and require little skill or knowledge to perform. Some of these are good at refreshing the skin similar to micodermabrasion or light skin peels. They are usually ineffective at achieving sustainable, long-term results when it comes to skin tightening and rejuvenation, reducing fine lines and wrinkles, smoothing skin texture, and improving sun damaged skin.
The Sandel Center for Facial Plastic Surgery, LLC in Annapolis is dedicated to providing patients with results. It is Dr. Sandel's intention to only use or recommend laser treatments that will give his patients the best possible outcome. He has continued to research new technologies and "try out" all different types of laser platforms to determine what delivers the best quality and most consistent result.